HIGH SEASON 2024

1 April 2024 - 23 October 2024

Midweek - Mon to Thu (18 holes)

£145
Weekend - Fri to Sun (18 holes)

£165
*Due to course maintenance we drop our rates from the 23rd of October into the Low season.
LOW SEASON

23rd October 2023 - February 2024

Midweek - Mon to Thu (18 holes)
£80pp / £300 per 4ball
Weekend - Fri to Sun (18 holes)
£100pp / £380 per 4ball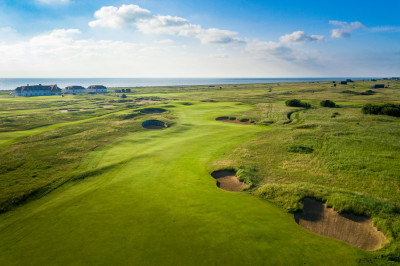 Winter Golf Offer
1st November - 29th February 2024
Visit Prince's during the Winter months and enjoy great links conditions!
Email office@princesgolfclub.co.uk for packages & availability
Dress code
Prince's wishes to create a welcoming environment for members and visitors alike and with this wish we request that our dress code is adhered to
On the golf course
Gentlemen are requested to wear recognised golf attire and golf shoes; shirts should have a collar and sleeves and must be tucked in. Please do not wear rugby or football shirts. Shorts must be tailored and worn with short sports socks (preferably white) or long socks.
Ladies are requested to wear appropriate golfing attire.
Blue denim jeans, track suits, flip flops or trainers are not permitted at any time on the golf course or in the clubhouse.
The Lodge at Prince's has a relaxed dress code.
Weather Policy
In the event of bad weather, please take note of the below to understand how this might affect your booking.
Lightning
In the event of lightning, golfers out on the course should cease playing immediately after the sound of the horn. Retreat to the nearest shelter or building, until the immediate lightning threat has passed.
If it is safe to do so, golfers may then return to their places on the course and complete their rounds.
If green fee-paying visitors decide to abandon their round, rather than wait for the lightning to cease, refunds will not apply. Should the lightning cause the golfer to miss their tee time, reasonable endeavors will be made to reschedule either later that day or the following day depending on availability.


Heavy Rain
In the event of heavy rain, we only offer a credit if the course is deemed unplayable by our General Manager, and subsequently closes. A refund would not be applicable due to the rain.
Unless the course is closed, it is up to the discretion of the player as to whether they wish to continue/start their round when it is raining. If chosen not to play, no refunds or credits will be issued.
Frost

Golfers are advised that should there be a morning frost, there may be a delay to starting the round. All delays and changes to tee times will be communicated with those playing, but the condition of the course will be the main priority when making the decision to allow play.
Would you like to receive our latest news and promotions?
Your email address is exclusively for us to send occasional promotions and will not be shared or sold. Privacy Policy